Skip to Content
Commercial Solar Services
Commercial Solar Solutions With Better Tomorrow
We understand that as a business owner, you're always looking for ways to reduce expenses and increase profits. That's why we're excited to offer our commercial solar services, designed specifically for businesses like yours.
Our solar solutions are tailored to meet the unique needs of your business. By installing commercial solar panels, you'll benefit from a sustainable energy source that reduces your carbon footprint and saves you money on your energy bills. You'll also be protecting yourself from rising energy costs and volatile energy markets, making it easier to forecast and manage your expenses.
In today's world, more and more consumers are looking for businesses that are committed to sustainability and protecting the environment. Solar energy is a clean, renewable source of energy that doesn't produce harmful emissions or contribute to climate change.
By generating your own clean energy, you'll be doing your part to protect the environment and create a better future for generations to come. By installing commercial solar panels from Better Tomorrow Solar, you can demonstrate your commitment to sustainability and attract more customers who share your values.
We're committed to providing exceptional service and support to our clients. Our team of experts will work with you to design, install, and maintain your solar system, ensuring that you get the maximum benefit from your investment. We also offer consultation and guidance on available federal grants, tax advisory, and financial partnerships.
Take the first step towards a more sustainable future for your business. Schedule a discovery meeting with our team of experts to review your energy use to see if solar may be a good fit for your business.
Better Tomorrow Solar offers roof mounted solar, ground mounts, EV Charger installation, battery storage solutions, and solar parking canopies.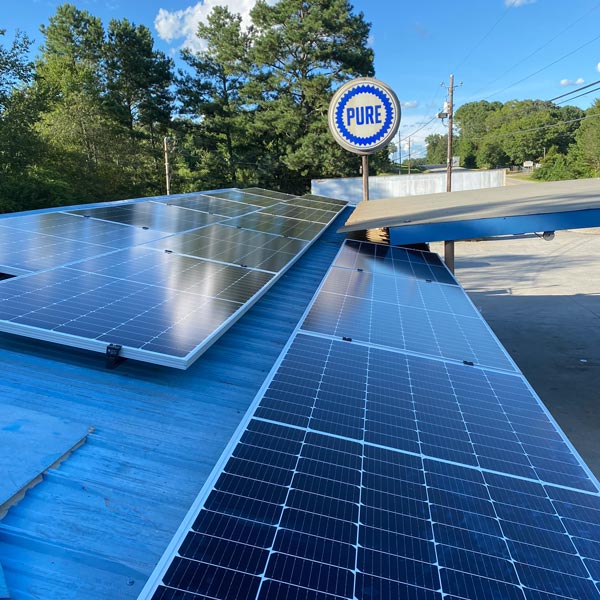 Is Solar Right for Your Business?
Solar frees up funds and provides you with opportunities to invest in using your energy savings.
Each case is unique, but here are some factors that would let you know your business is a good candidate to go solar! Businesses who…
Have high energy costs
Manage multiple locations
Are committed to sustainability
Have large, flat roofs
Cater to environmentally conscious clientele
Have large energy load requirements
Prioritize offsetting energy consumption
Have 24-hour energy needs
Revenues From Solar Incentives
Any business that installs and interconnects their solar system is eligible for 30% Federal Tax Credit! Depending on your location, you may be eligible for grant money. You can learn more about Federal Solar Tax Credits for Businesses here.
Typically, businesses are able to use an accelerated depreciation corporate deduction with an election to claim a 100% bonus depreciation.
You can also reduce capital expenditures by taking advantage of a SBA 504 green loan program that incentivizes sustainability initiatives for your business.
A taxpayer who claims the commercial ITC for a solar PV system placed in service can typically also take advantage of accelerated depreciation (Modified Accelerated Cost-Recovery System, or MACRS) to reduce the overall cost of a PV installation.
Please ensure to consult with an accounting professional for a more accurate savings amount.